Officially approved sports ice skating rinks
The sports ice skating rinks from Ice-World are suitable both for temporary sports events and for permanent ice sports facilities. The ice skating rinks can be used, for example, as a temporary extension of existing ice floor capacity, as a full-fledged interim solution when replacing or renovating a permanent ice skating rink, or as a flexible solution at locations where no fixed ice skating rink installation is possible.
Top quality ice skating rink
Thanks to our knowledge of ice quality and climate control, our ice is recognised by official bodies such as the IIHF, ISU and KNSB. Weather conditions or other environmental factors do not play a role: our rink for the World Short Track Championships is proof that even a full stadium does not pose a threat to the quality of the ice.
Low cost
By working with Ice-World you are assured of a top quality ice skating rink with low investment costs. In addition, our ice skating rinks consume up to 40% less electricity and can be assembled or dismantled within a very short period of time. This means that operational costs such as energy costs and site rental costs are lower than for other ice skating rink systems.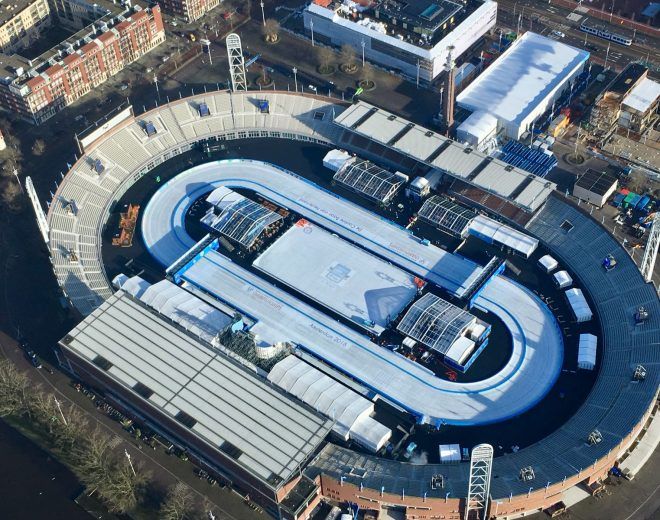 Three reasons to rent or buy an ice skating rink from Ice-World
Lower operational costs
The rapid assembly and dismantling of the ice skating rink means lower costs, for example lower site rental costs.
Proven ice quality
Our rinks are approved by official bodies such as ISU, IIHF and KNSB for recreational and professional skating.
Easy to install
Our rinks can be created in an existing building, building redeveloped for the purpose, semi-permanent building, a marquee or outdoors.
What our clients say
We were very satisfied about the quality of the system itself and of the professional support of the Ice-World team
Mehmet Akinici, Chairman Paten Group of Companies
Ice-World was the right partner for Us as ETC Crimmitschau e.V.. Together we have created something fantastic. Together we have made a dream come true. Finally, we have a second ice rink on which we can offer our ETC young talent optimal conditions in training. The Canada Life Kids Arena has become a real feel-good place for us, a sports facility that we are really proud of today. Ice-World helped us to design and implement the project. Ice-World's know-how is one hundred percent state of the art and the collaboration is pleasant and professional. Our project has been a complete success
Matthias Gerth, ETC Crimmitschau e.V.
It's absolutely amazing, fantastic – we love it! The ice is very good and the facilities are marvelous. In fact it is one of the best rinks we have been to and this is even more amazing when you consider how quickly it was built. It's an unbelievable achievement
Diane Towler-Green, Ice Rink Head Coach Brixton, United Kingdom