Replacement of the current ice skating rink or extra capacity to increase player's ice time
Our portable ice hockey rinks are becoming increasingly popular with clients who organize high-profile ice hockey events or are in need for a temporary professional ice hockey facility. The required accessories such as referee boxes, player boxes and penalty boxes and internationally recognised lining are supplied as standard with our sports ice skating rinks. Ice-World's portable ice hockey rink and the boarding anchored in the ice meet the quality requirements of the International Ice Hockey Federation (IIHF).
Any location, indoors or outdoors
The temporary ice hockey rink from Ice-World can be constructed at any location, such as in a stadium, a sports hall or outdoors. The rink is delivered complete with cooling equipment, referee and player boxes, penalty boxes and internationally recognised pitch-lines. It can be built on nearly any location in less than two days, either outdoors or inside a permanent building or mobile structure.
Should your own permanent ice hockey rink not meet the latest regulations and standards in technology anymore, we can upgrade the facility or supply a temporary, professional alternative.
International Ice Hockey Australian Tour
The USA and Canada's ice hockey teams took part in an exhibition ice hockey series in Perth, Brisbane, Melbourne and Sydney in July 2014. The teams, which consisted of players from the National Hockey League (NHL) and the American Hockey League (AHL), battled it out in Australia's biggest indoor arenas.
With a total of 70.000 visitors, this has been Australia's largest sporting event in years. Ice-World International supplied the portable ice hockey floors complete with IIHF certified dashboard system.
As value for money is a big consideration when it comes to arena hire, the foldable Ice-World aluminium ice floor does the job better than any other ice floor available on the market. The ice hockey rinks were ready to play in 36 hours. 18 hours after the game, the arenas were ready to use for the next event.
Bates Battaglia (580 games in the National Hockey League):
"After playing more than 500 games in the NHL competition, I know how important the quality of the ice is for the players. I would like to say that during the New Zealand ice hockey tour, all my fellow players were impressed by the quality of the ice. Well done Ice-World!"
Ice-World was also the supplier of the temporary ice hockey rinks for the US vs. Canada tours in New Zealand in 2011 and Australia in 2013.
A professional IIHF size aluminium ice hockey rink (60×30 m/197×98 ft) or NHL size ice hockey rink (200×85 ft/61×26 m) or custom-made sizes
Competition ready in 48 hours
Indoor and outdoor solutions
IIHF certified dashboard system available with PC, steelnet, or aluglass protection
Complete with ice paint and markings
Combination with existing infrastructure for other seasonal (summer) sports possible
Utilize only in skating season for maximum return on investment
Save up to 40% of energy compared to temporary floors made of EPDM rubber or PE
Ice resurfacing machines for professional ice treatment and other accessories available
A selection of our global ice hockey projects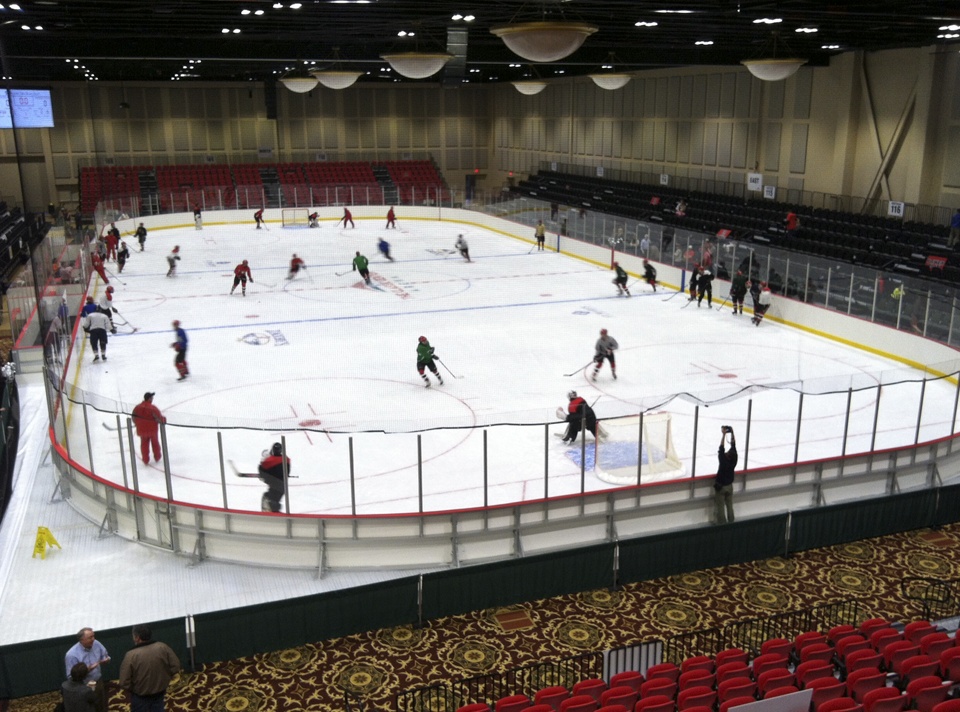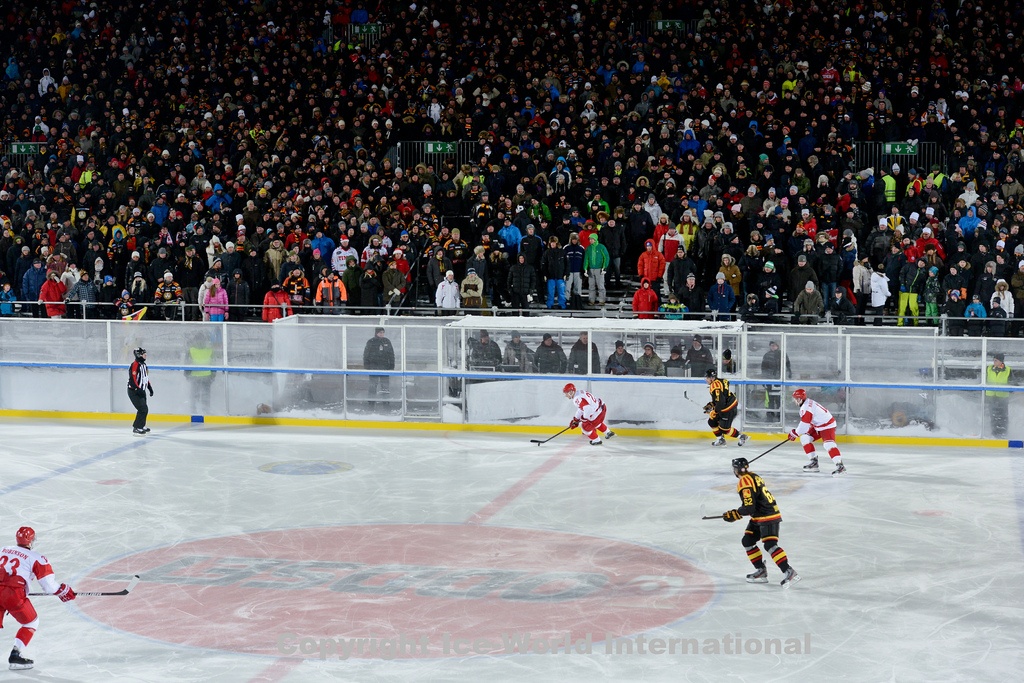 I am truly impressed by the quality of the ice
Turn key solution including high quality ice, roofing structure and interior facilities
The Dutch ice rink manufacturer, Ice-World and roofing and facility supplier Losberger de Boer partnered up to provide an unique and flexible ice arena solution. Due to the flexibility of the structure and the energie-efficient ice floor you can save up to 70% compared to a permanent solution. The ice arena includes high quality and approved ice with all relevant facilities such as the hall, changing rooms, storage space, skate rentals and restaurant furniture.
Save up to 70% compared to a permanent solution
Temporary replacement of current ice rink
Increase the ice capacity
4 reasons to rent or buy an ice hockey rink from Ice-World
Low operational costs
The rapid assembly and dismantling of the ice skating rink means lower costs, for example lower site rental costs.
Proven ice quality
Our rinks are approved by official bodies such as ISU, IIHF and KNSB for recreational and professional skating.
Low investment
Easy to install in combination with existing infrastructure.
100% CO2 compensation
Ice-World compensates 100 percent for CO2 emissions by means of wind power, its own solar panels and mangrove forests.
Contact us for more information