Ice Sport Training Centre
Ice-World can deliver permanent sport ice rinks, either turn-key complete with hall, or convert an existing building such as a warehouse into an ice sport venue. Both solutions are affordable, flexible, sustainable, and easy & quick to build.
A future-proof ice sport hall
The ice sport training centre meets all requirements, either as a permanent solution in concrete or as a removable rink using our patented aluminium piping system. Both solutions deliver top ice quality while keeping the energy costs low. Project planning and building are much shorter than for a standard ice arena. 
Often a full size 30x60m rink is not necessary for your needs. How about a smaller 600m2 ice training hall for kids? Or a 26x56m ice hockey rink ready to host professional games in most countries? Previously unimaginable projects become feasible. We keep the costs low and support you in the entire process from initial planning and design until the opening of the new ice rink venue. 
Ice-World can also offer solutions that grow with your demand. Start with a 30x20m training rink and increase the size after a few years when you need more ice surface or want a full size 60x30m ice hockey rink for competitions. 
Long-term value for money
The Ice-World solution offers any investor or operator value for money over years to come. The bespoke solution is designed to exactly fit the needs for each individual customer. Combining your local market knowledge and requirements with our long-standing experience in ice rink design and construction will result in the best possible rink. From the start Ice-World takes your individual situation into account when planning the rink. Our aim is to make your rink future-proof, to create a project that is operationally, environmentally, and financially sustainable. 
Permanent but flexible
Our ice rinks can be designed as a permanent solution, but at the same time be completely removable for future use at another location. Whether you have leased a space only for five years or you want to have the option to convert an ice hall into a sports hall or a warehouse at a later stage, anything is possible with our removable rink system. In addition, the equipment retains a much higher value as it can be sold for future use at another location, if needed. These can also be important factors in securing public or private financing for the ice venue. 
Top ice quality for all sports
Every ice rink operator knows its challenging to quickly prepare the ice surface for ice hockey training after a figure skating class. With the Ice-World system you can rapidly change the ice surface temperature to be ready for the next session. The quick response time of the system and precise control over the ice surface temperature results in higher ice quality and lower energy use in the long-term. Ice-World ice rinks have hosted international events and competitions in all major ice sports including ice hockey and bandy, short track and long track speed skating, curling and figure skating.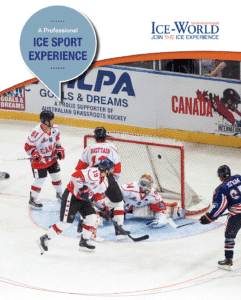 Warehouse Conversion in Bracknell, United Kingdom
Two passionate ice hockey players, Kevin Fong and Danny Meyers, spotted a gap in the UK ice rink market: a training hall dedicated to ice hockey. The lack of professional training facilities and ice time for ice hockey players in Southern England in combination with the growing popularity of the sport, created demand for an additional ice sheet. Instead of looking into planning and building a multimillion-pound facility from scratch, Danny and Kevin were looking for a smaller bespoke facility. An empty warehouse in Bracknell turned out to be the ideal location. They asked Ice-World for help to convert it into an ice hockey facility. The result is the Ozone Rink, already rated the best ice facility in the region. The former warehouse features a 600m2 rink, a separate goalie training sheet, virtual hockey, and a café-bar overlooking the ice rink.
Kids Ice Hockey Training Hall in Crimmitschau, Germany
The existing ice hall in Crimmitschau could not provide enough ice time to host the growing local ice hockey community. To make sure all its youth teams had enough time on the ice, the ETC Crimmitschau made plans for a separate hall, next to the existing arena. Within two years and a budget of just under one million Euros the club in partnership with Ice-World succeeded to build a 1.125m2 training hall, complete with a 600m2 ice rink. Thanks to the comparably low investment and low operation costs this rink has already become a blueprint for similar projects across Germany. 
We are really proud of the Canada Life Kids-Arena. Ice-World helped us to design and implement the project. The know-how of Ice-World is one hundred percent on the cutting edge of technology and the cooperation is pleasant and professional. Our project has been a complete success.
An affordable ice hall for a curling club
Building their own dedicated curling facility had been a dream of the Curling Club Zemst for a long time, but financing that dream was difficult. The club managed to overcome this challenge with a loan from the World Curling Federation (WCF), a very successful crowdfunding campaign and support from the local government. The final concept: a new, affordable 3-sheet curling facility with a cosy bar overlooking the ice. For the ice floor, the curling club turned to Ice-World.
The Ice-World piping system was placed in a lightweight hall on an insulated concrete floor and connected to a chiller with a heat recovery system. This proved to be a very energy-efficient solution, keeping not only the initial investment low but also the running costs down. The WCF congratulated the Curling Club Zemst with its successful initiative and uses the rink as a case study on how to build a modern curling facility.
Contact us for more information