Create an unforgettable winter experience with an Ice-World ice rink in your Shopping Mall
Looking for a unique all season crowd-puller? Ever thought about an ice rink in your Shopping Mall? Ice attracts families to flock to the ice rink for a fun day out. People relax and enjoy skating, stay longer at the venue and return more frequently.
Nowadays, Shopping Malls visitors are not limited to purchasing, but also to seek new entertainment experiences. Ice is an essential part of a winter experience, in which it is about connecting, family, being active and having fun!
In addition, it benefits the local entrepreneurs who see their sales increase during an ice event in front of their shop. An ice rink fits the aspiration of shopping malls to be engaging, relevant and social perfectly. Further, the ice rink can also serve as an extra source of income through ticket sales, rental services, sponsorships, food and beverages.
Ice-World has over 25 years of experience in the rental and sale of ice rinks for recreation and sport. We are your business partner for creating an unforgettable winter experience; From concept design to the realization of innovative winter concepts. Temporary or permanent, indoor or outdoor. Whatever your wish, we will make it happen.
A removable or permanent ice rink that can be installed on the current structure
The ice skating rink elements are designed in such a way it is possible to set up an ice skating rink with real ice in any desired size, in any conceivable location and in any weather conditions. A benefit of the Ice-World system is that it is easily removable and that it can be placed on the current structure. Therefore, it is possible to relocate the ice rink to other malls within the group, allowing to organize events at different locations if you want. We also have permanent solutions available. Our  systems are multifunctional and energy efficient.
Include ice slides, fun tracks and accessories for a unique ice experience
Our spectacular mini amusement parks with real ice FunSlides and FunTracks are a popular attraction in shopping malls. An optional curling rink provides endless competitive fun and the IceByks guarantee exciting bike rides and races on the ice. With a complete range of accessories such as skates for rent, curling stones, ice maintenance equipment and exclusive skating aids, we ensure that we offer you a unique ice experience.
A unique crowd-puller to generate traffic
Family- driven attraction for all ages
Create a separate source of income through ticket sales and skate rental
A removable or permanent ice rink that can be installed outdoor (e.g. parking area) or indoor for maximum flexibility and attraction
Add value for your tenants by offering something different during the winter and summer season
Fast return of investment through tickets sales, sponsoring, and F&B revenues
Possible to combine with a traditional Christmas market to create additional attention and revenues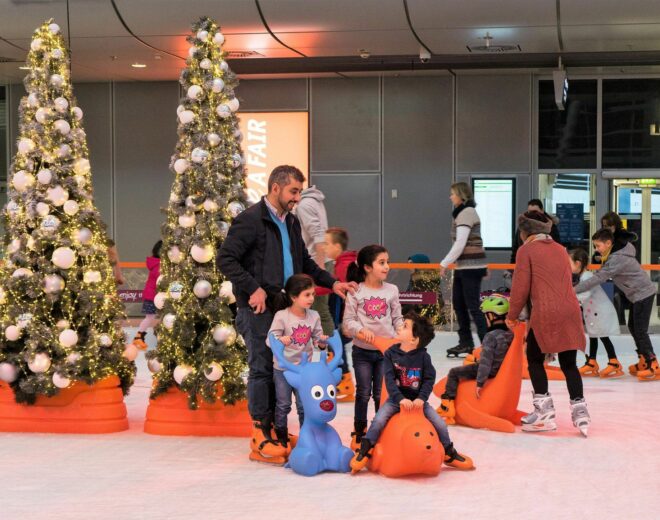 Need some more information?
A unique event or a year-round experience
An ice rink is both suitable as a unique event to create an extra buzz around Christmas and as a crowd-puller year-round. The Optimum Outlet & Entertainment Center in Istanbul was looking for a new, sensational activity to attract more visitors to their shopping centre. The Shopping centre wanted the skating rink to be open year-round. Besides its entertainment value, the skating rink became the home base for the local skating association, which is used for training and as the location for ice hockey competitions.
We were very satisfied about the quality of the system itself and of the professional support of the Ice-World team
Both indoor and outdoor winter experiences possible
It is possible to set up an ice skating rink with real ice in any desired size, in any conceivable location and in any weather conditions. For instance, some Shopping Malls prefer an outdoor experience while others choose an indoor ice rink. We can advise you on the best solution based our your specific needs.
At the Shopping Mall at Cribbs Causeway in Bristol, United Kingdom you can find a 1052m2 open air ice rink as part of the promotion of the Mall as a Christmas shopping destination. During 7 weeks you can visit Santa's Enchanted Ice Castle, take a ride on the Christmas train and indulge in a selection of festive treats. Yearly, the ice rink attracts 80.000 skaters.
In Ciudad Juárez, you can find an example of innovative and all inclusive indoor winter experience. The entertainment format comprises an 800m2 ice rink including an Ice Park (Ice rink, FunTrack and FunSlide), stage, aerial extreme adventure, gourmet market including restaurant and digital and interactive performance.
Four reasons to rent or buy an ice rink from Ice-World
No risk, we deliver
For 30 years now, we have been helping our customers with successful and sustainable ice events. Ice-World is ISO 9001 and ISO 14001 certified.
Tailor made ice solutions
We provide advice for the organisation of both temporary ice events and permanent ice skating rinks, based on your specific wishes.
Low operational costs
The rapid assembly and dismantling of the ice skating rink means lower costs, for example lower site rental costs.
100% CO2 compensation
Ice-World compensates 100 percent for CO2 emissions by means of wind power, its own solar panels and mangrove forests.
Type of ice experiences we offer
Ice-World ice rink accessories
Contact us for more information