Skating aid for childern
The skating aid that we have developed in-house is very popular with children who want to master skating. And, even more fun, children can just sit on it and let themselves be pushed along by other children or parents.
Ice skating for the first time can be scary. Our skating aid Bobby® the Seal changes everything. Instead of hanging on to the rail or on to another person or parent, children of all ages can enjoy ice skating on their own thanks to the Bobby® ice skating aid.
The unique Bobby® skating aid is perfectly balanced and stable and can be pushed with or without another skater sitting on the bright orange seal.
In addition, the Bobby® aid is easy to maintain and clean. Ice arenas can make money by renting out Bobby® the Seal skating aids to its customers. On average rinks charge between €1 to €5 per use. The colourful bright orange seal looks so fun to use, that people of all ages, from four years old to ninety, will want to use the aid and will gain confidence on the ice by using Bobby®. Several Bobby® seals can be stacked and stored behind an ice rink's skate rental counter.
Creating a safer and more exciting skating experience
Bobby® is unique and patented
Dimensions: W: 395 mm/H: 780 mm/L 870 mm
Bobby's unique design includes the ability to stack, saving space and adding convenience
Molded plastic makes Bobby® durable, safe, and easy to maintain
Skating aid Bobby the Seal®
The minimum order quantity is 5
We only sell our skating aids to existing/permanent ice skating rinks or as part of an Ice-World ice rink project
Worldwide delivery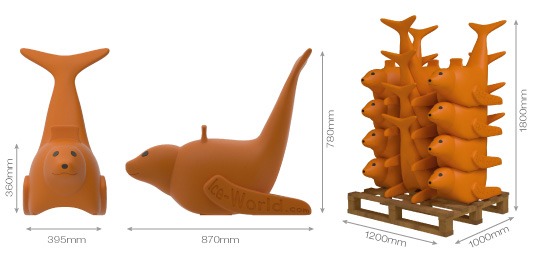 The Bobby Pick-Up
Like his friend Tommy the Reindeer®, Bobby the Seal® is also easy to stack and has his own pick-up system. An perfect addition to any temporary or permanent ice skating rink! Because the Bobby can be locked with a coin you can easily rent your Bobbies out with a minimum of handling costs.
Generate extra income
Safe storage place
Bobby's only accessible with special coin
Minimizes the handling
Gives the ice skater more responsibility for returning the skating aids
Contact us for more information