The fastest mobile 400 metre speed skating rink
Our mobile speed skating rinks are becoming increasingly popular with clients who organize high-profile speed skating events or are in need for a temporary professional speed skating facility. The required accessories such as cooling equipment, air-boarding, ice paiting, lining and accessories are supplied as standard with our sports ice skating rinks. Ice-World's portable official size 400m speed skating rink is appoved by the International Skating Union (ISU).
The Ice-World mobile speed skating rink meets all definitions of the official ISU rules and regulations. It is delivered complete with cooling equipment, air-boarding, ice painting, lining and accessories. The speed skating rink can be customized according to clients' specifications and location requirements. It can be built on nearly any location in a few days, either outdoors or inside a permanent building or mobile structure. This mobile system is a very economical solution compared to a permanent speed skating facility.
ISU approved Speed Skating Oval Olympic Stadium in Amsterdam
During the Winter Olympics 2014, the Netherlands won 23 out of the 27 speed skating medals. This record was the result of a long-term investment in the sport. The success was celebrated on a mobile 400 metre speed skating rink installed by Ice-World. Over 108.000, both sportive and recreational skaters, enjoyed themselves on the speed skating rink and on the ice hockey size recreational rink in the centre. The Royal Dutch Skating Federation (KNSB), member of the International Skating Union, was very positive about the quality of the ice floor, on which the official Dutch all-round and sprint championships also took place. The Dutch top speed skaters – medal winners during the Olympic Winter Games 2014 – praised the quality of the ice and proved it during the competition. With winning times of 0.36,36 on the 500 metre distance, the rink instantly became the third-fastest speed skating rink in the Netherlands.
Low initial investment
Combination with existing infrastructure for other seasonal (summer) sports possible
Utilize only in skating season for maximum return of investment
Low energy costs.
All speed skaters were unanimously enthusiastic about the quality of the ice rink that Ice-World has set up in close co-operation with the ice master from Thialf.
A selection of our speed skating oval projects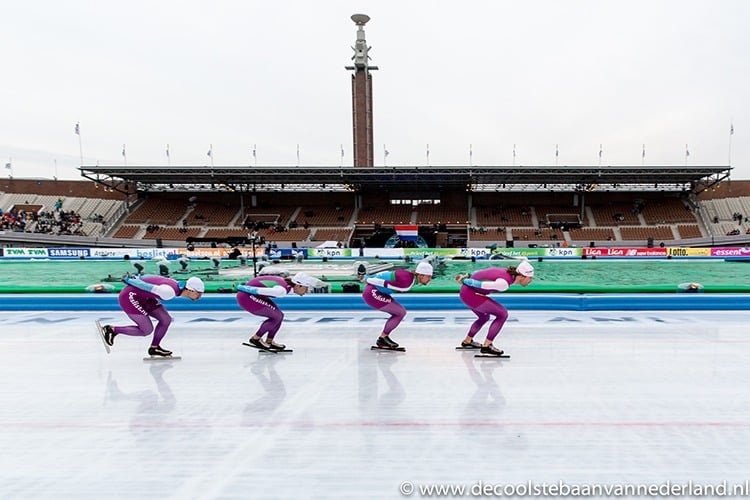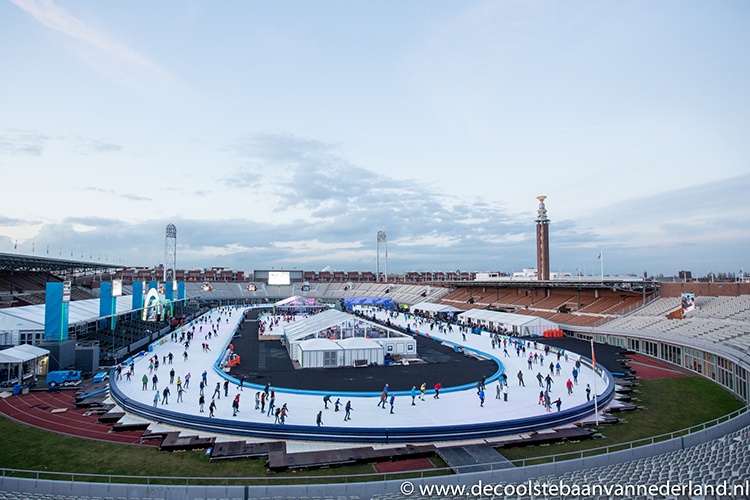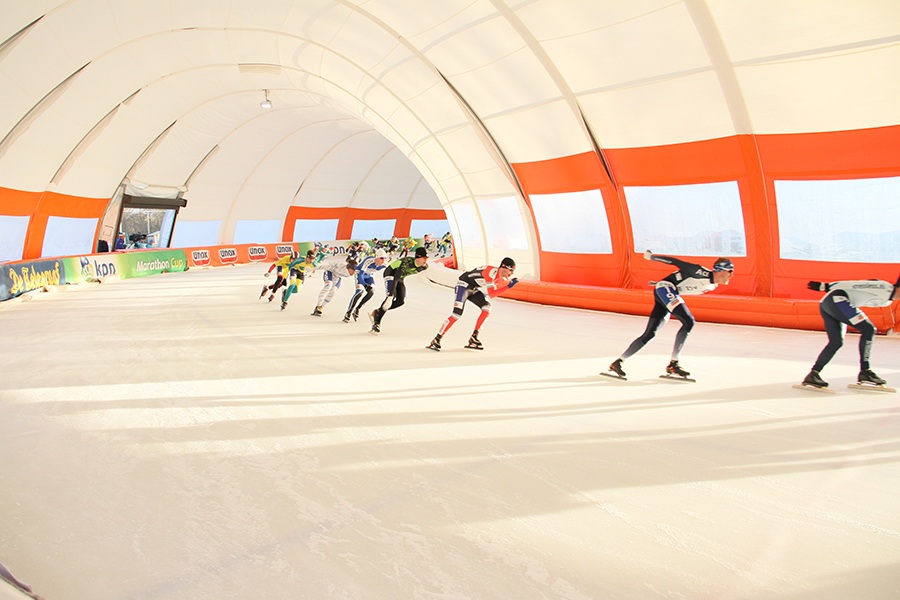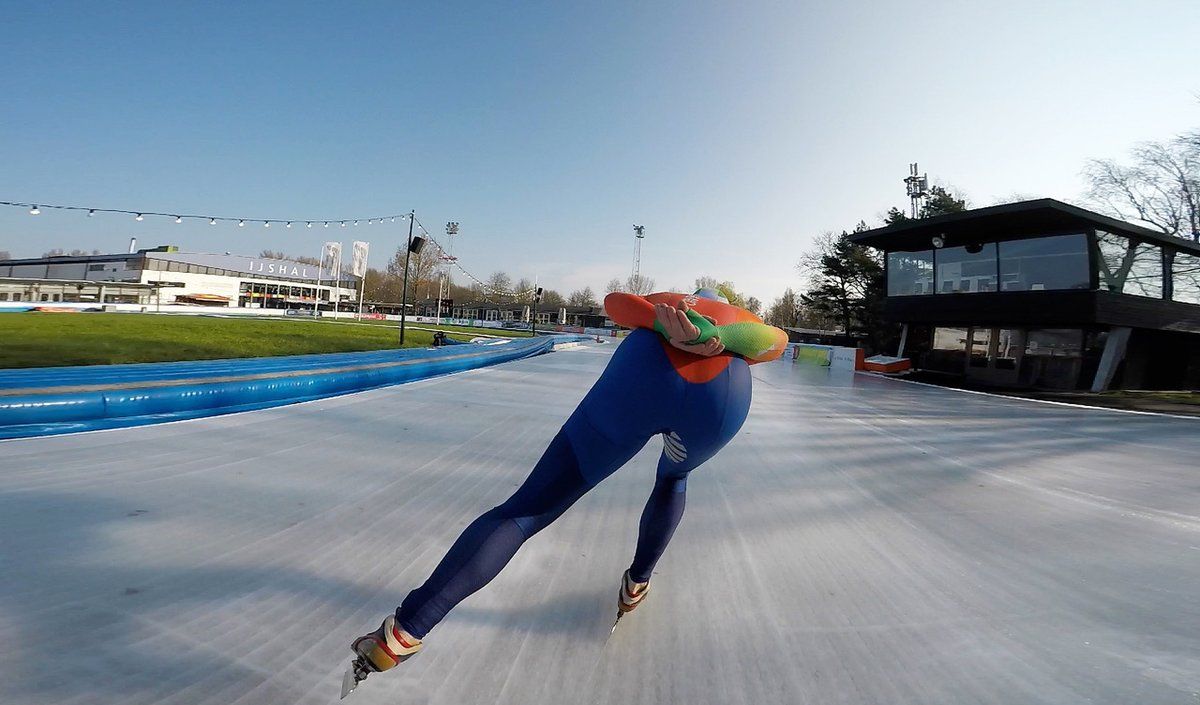 This should be an example for other countries. One skating rink such as this one is not enough. They did very well here.
Covered 400m Speed Skating Rink in Rotterdam
Making speed skating possible on sport fields that were not in use in winter-time, was the idea behind this unique initiative in Rotterdam. Within a week Ice-World turned existing hockey fields into a covered speed skating ice rink. The facility was an instant success within the local and regional speed skating community. 150.000 skaters visited the rink in three months' time. An official Dutch marathon competition took place on this ice floor and the speed skaters embraced the quality of the ice. The specially-designed mobile hall guaranteed not only an all-weather skating experience, but kept the temperatures indoors very low. Combined with an energy-saving cooling installation, the facility used less than 1 kWh/m2 per day. Less than a week after the ice rink was closed the ground was again in use for playing field hockey.
Prize-winning community concept
65% less investment compared to apermanent facility
High return on investment: initial costswere covered by first season's earnings
Official speed skating marathon competition.
4 reasons to rent or buy a speed skating rink from Ice-World
Low operational costs
The rapid assembly and dismantling of the ice skating rink means lower costs, for example lower site rental costs.
Proven ice quality
Our rinks are approved by official bodies such as ISU, IIHF and KNSB for recreational and professional skating.
Low investment
Easy to install in combination with existing infrastructure.
100% CO2 compensation
Ice-World compensates 100 percent for CO2 emissions by means of wind power, its own solar panels and mangrove forests.
Contact us for more information