A crowd-puller year-round
Most European theme parks close down in the colder months, and those that don't tend to see visitor numbers drop significantly. But by offering a winter experience in the low season, you seize a golden opportunity to generate additional revenue and attract new customers. Because an ice rink works like a magnet for one of your key target groups, families young and old, not least as part of an overnight package.  At Ice-World we've made ice rinks a year-round attraction, offering that extra element of frosty fun in warmer months. And in countries that don't usually get ice, it transports people to a surprising new world. And it's a surprise your visitors can feel comfortable with because the Ice-World system is significantly more energy-efficient  than competitors and backed up by over 30 years' experience in climate control. 
 Our flexible solutions can meet your needs, whatever they are. Whether it's a removable ice rink or a permanent one, located indoors or outside. And we offer a range of great activities and accessories, from traditional skating and curling to Icebyks and even ice slides.
We realized ice rinks in over 20 attraction/theme parks worldwide
Bespoke solutions for any theme/brand
Complete winter experience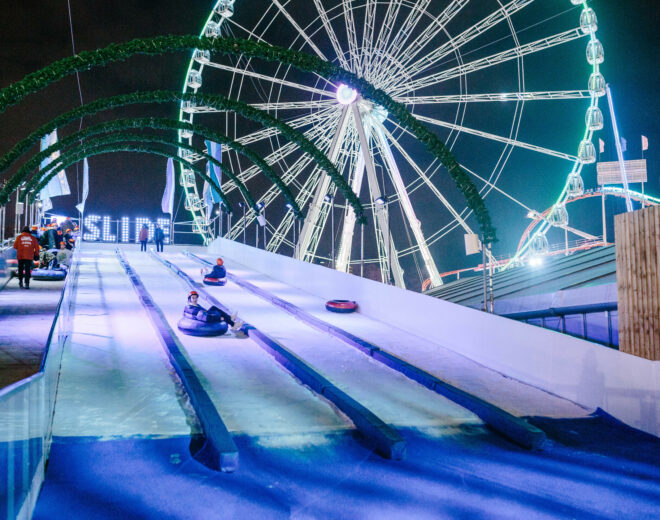 Visitor record Toverland, the Netherlands
Toverland (The Netherlands) offers its visitors, including many from nearby Germany and Belgium, an unique experience. The Ice-World rink, ice slide and curling rink are part of its innovative winter concept. The initial Winter Feelings in 2022 were a great success and contributed to a new record number of visitors in that year. In addation, the winter offering creates a spin-off as families are more likely to return during other seasons.
"Wiht the Ice-World ice rinks we created a different concept and welcomed three times more visitors during Winter Feelings in 2022/2023 compared to the 2019/2020 winter season."
Luke Verhoeven – Manager Entertainment Toverland
Custom-made round ice rink for Yerevan Park, Armenia
Yeravan Park looked for a new activation to attract more customers in the winter months. Ice-World turned a 1.000m2 round pool, used as water feature and for foam parties during the summer months, into a frozen lake – and Yerevan Park create a magic winter experience around it, attracting new visitor groups to the park.
"We have had the desired surge in theme park visitors with the installation of the rink and we would definitely advise anyone to choose Ice World as their partner in carrying out such a project!"
Gagik Nushikyan
Director Yerevan Park
Real ice offers unique winter experiences at Kings Island, Ohio, United States
A real ice rink is a key feature of any winter activation. The Kings Island WinterFest where the attraction park transforms into 11 enchanting winter wonderlands is no exception. Voted in 2021 as one of the top Theme Park Holiday Events in the country by USA TODAY readers. The annual event features ice skating on the Royal Fountain, a gigantic magical Christmas tree, more than five million lights, and live entertainment throughout the park.
Contact us for more information